Truth be told, when we sit down every night to watch Married At First Sight, we're a heck of a lot more invested in all of the juicy drama than any actual love stories. Sure, Jules and Cam are adorable, and Martha and Michael make one hot couple, but we'd much rather watch some crazy plot twist drop or a good old yelling match. So when last nights episode aired, you can guarantee that we grabbed our popcorn for what was sure to be a good night.
To quickly break things down for you, last night we found out that Jess told Martha that Nic rubbed her leg under the dinner table, so Martha told Nic while they were at the gym, prompting Nic to tell Cyrell, and Cyrell to then completely, totally, lose her mind. It's very he-said-she-said, but it was unbelievably epic.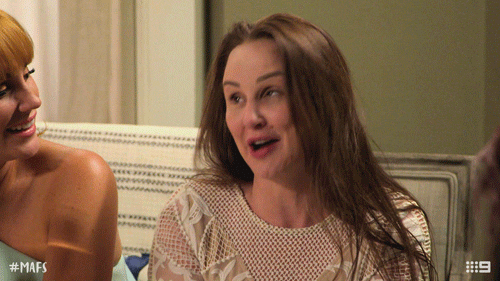 Of course, with reality television, the greatest tweets and memes are born, and there was certainly no shortage of them last night. Scroll down and feast your eyes on some of the funniest tweets we found about last night's MAFS episode.
I love it, Nick just looked at the cameraman and just said "fuck mate seriously help me" i am pissing myself laughing. #MAFS

— M (@clarky_82) February 26, 2019
Me applying an elaborate skincare routine vs me when I see my skin still breaking out and looking like the Sahara desert #MAFS pic.twitter.com/kf5F5654hG

— Tina Burke (@teeburke_) February 26, 2019
"First of all I hate the way that bitch talks. She thinks she's such a hectic, sexy, prissy, chick." Hahaha god, this is gold! #cyrell #mafs

— RandomExpat (@RandomT95388832) February 26, 2019
WHO WORE IT BEST? #mafs #mafsau pic.twitter.com/jGbYvaxq9l

— cricket (@cnvys) February 26, 2019
Me @ Cyrell #MAFS #MAFSAustralia pic.twitter.com/KBOumkii5N

— Laura (@nothankssx) February 26, 2019
"She thinks she such a hectic, sexy, prissy bitch ok"#mafs pic.twitter.com/6rJhPgegr9

— Alisha (@Kalisha_xo) February 26, 2019
Mick is all of us. #MAFS pic.twitter.com/yoX5iWpFxo

— Channel 9 (@Channel9) February 26, 2019
god #MAFS has only been going ONE MONTH pic.twitter.com/ZdjXUZZa8l

— mike (@boy_from_school) February 26, 2019
Cover photo by: @cyrelljimenezpaule